Recycled Crushed Concrete
Drop Off Your Clean Concrete Rubble
If you have clean concrete rubble from a demolition project and need to dispose of the material, Liberty's Recycle Yards will take the concrete for free. Just bring your clean concrete removal material to one of our two locations located in Des Moines and Van Meter during our extended business hours and dump your material free of charge. We will save you the expense of dumping at a landfill and you will help the environment by contributing material that will be recycled into a reusable aggregate product.
To recycle the material, Liberty Ready Mix takes the concrete rubble material and crushes it down to aggregate materials that can be used on construction projects as fill material along with subbase material placed under new concrete slabs. This practice of recycling concrete is healthier for the environment by keeping the material out of landfills. Additionally, the recycled aggregate can be a substitute for natural crushed limestone and gravel materials, helping save the irreplaceable natural aggregate resources for future generations.
Acceptable Concrete Rubble
While we want to recycle and reuse as much concrete rubble as possible, our recycling facilities do have some guidelines on the types and condition of the concrete that are acceptable for recycling. Material that is acceptable must meet the following:
Clean, broken concrete free of excessive dirt or mud

No asphalt material will be accepted

No concrete cinder blocks or bricks will be accepted

No landscaping block will be accepted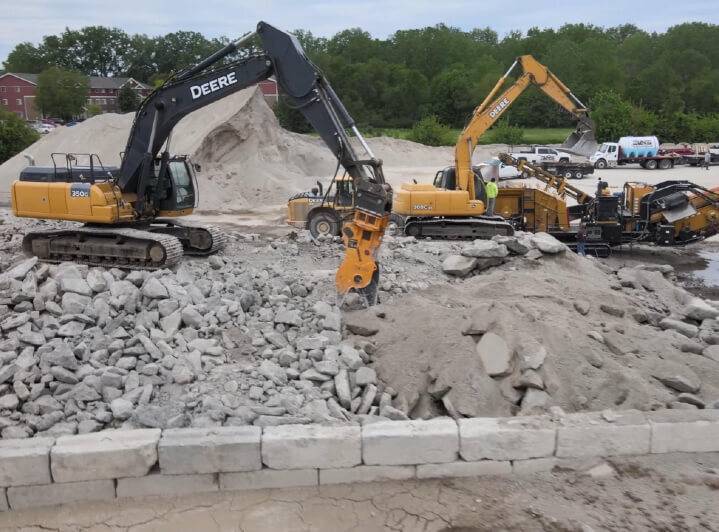 Recycled Aggregate Materials for Sale
Our Recycle Facility has the following recycled concrete aggregates for purchase:
Recycled Concrete Fines

Recycled Special Backfill

Recycled 1" Clean
These materials provide superior compaction and constructability for all types of projects, and the use of recycled aggregates on projects can be counted toward points for LEED Certification. 
You can purchase recycled concrete aggregates from the Liberty Ready Mix Dixon Recycling Facility located at 3230 Dixon Street Des Moines, IA 50315. Delivery of recycled concrete aggregate is also available. We offer tandem dump trucks, side dumps, and belly dumps for hauling material to any size project. If you are interested in purchasing FOB, or needing delivery of our recycled concrete aggregates at competitive prices, call us at (515) 202-4823 for more information.
Hours & Location for Crushed Concrete
Drop Off & Pick Up Hours
Monday – Friday: 5 a.m. – 6 p.m. 
Saturday: 7 a.m. – 12 p.m. 
Sunday: Closed 
Des Moines Drop-Off
3230 Dixon St Des Moines, IA 50315
Van Meter Drop-Off Contact Liberty Ready Mix
If you have any questions about our recycling program, give us a call or submit a contact form request.